The Winter Park Garden Club supports several programs to promote conservation and environmental awareness, education of our youth, opportunities for personal enrichment, civic involvement and community beautification.
Our most recent project was the restoration of Pulsifer Park in conjunction with the City of Winter Park.  Pulsifer Park is located at 701 N Interlachen Ave., Winter Park, FL 32789.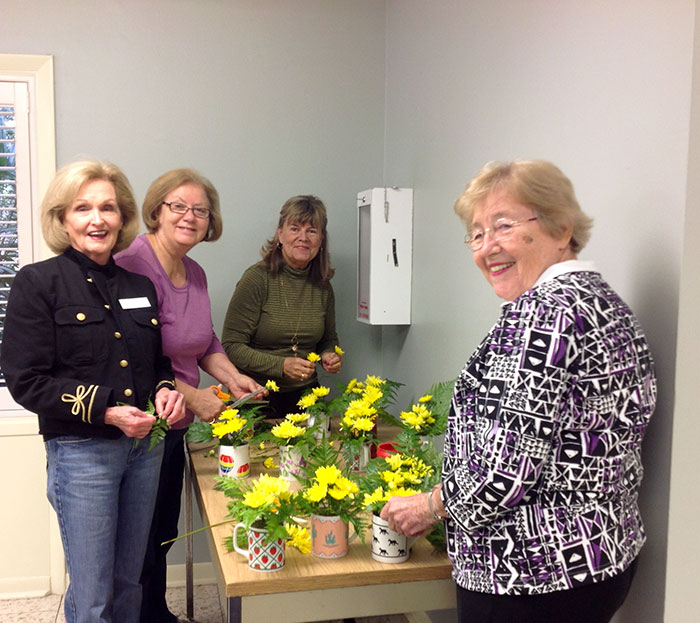 Winter Park Garden Club members, lead by co-chairpersons, do flower arrangements in mugs every month.  The mugs are often used as centerpieces for meetings, and then are distributed to patients in area healthcare centers.  A few of the usually twelve mugs are available for purchase by members, which helps offset the cost of flowers.
Penny Pines (NGC Project)
This project is in partnership with the USDA Forest Service for the reforestation of forest areas that have been destroyed by fire or other natural catastrophes. A donation of $68 to Penny Pine Plantation will contribute to the costs of replacement of trees (not just pine trees) indigenous to a particular area.  For more information contact the Winter Park Garden Club at 407-644-5770 or Winterparkgardenclub5@gmail.com.
Wekiva Youth Camp Scholarships (FFGC Project)
Scholarships are given to promote nature and environmental education for boys and girls. For more information and about the Wekiva Youth Camp visit www.wekivayouthcamp.org
In addition to monetary donations, the Winter Park Garden Club supports the families of the Winter Park Day Nursery by collecting art supplies, food for their pantry, and new toys for the children during the holidays.  The club also donates a decorated Christmas tree each year for one lucky family.
Each month a floral arrangement or plant is presented to an individual or organization as a Thank You for their important contributions to our community and increase our club's visibility in the community.
An FFGC project to promote gardening for members who can no longer maintain a large garden at their home. Club members will bring patio plants for a member that has been selected for a patio garden to be installed in their home.
A program sponsored by the University of Florida and the National Wildlife Federation to promote and expand gardening for wildlife. Members will be encouraged to discover the wonders of nature in their own backyards by providing water, food, cover and a place for wildlife to raise their young.