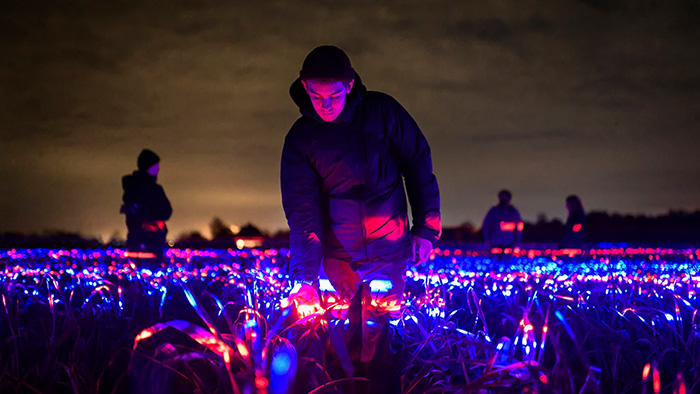 Highlighting the Beauty of Agriculture
"GROW" is the latest movie by Dutch filmmaker Daan Roosegaarde, best-known for his projects that merge technology and art in urban environments. He is the current Artist-in-Residence at Rabobank, the Dutch banking and financial services firm that specializes in food and agriculture financing and sustainability-oriented banking.
"GROW" vividly showcases the pioneering photobiology technology currently being used in the Netherlands to cultivate nearly five acres of agricultural land. The formidable process shines precisely-directed blue, red, and ultraviolet light on crops which not only helps them grow but reduces pesticides up to 50%, reinforcing the importance of innovation in
agriculture and its value in sustainably growing plants.
Roosegaarde says, "GROW" is the dreamscape that shows the beauty of light and sustainability. Not as a utopia but as a protopia, improving step by step."
He and his team of designers developed "GROW" over two years using information from Wageningen University & Research, the only university in the Netherlands focused solely on healthy food and living environments; Springtij Forum, an organization dedicated to developing environmentally-conscious solutions to global problems; and the World Economic Forum, which engages the foremost political, business, cultural and other leaders to shape global, regional and industry agendas.
Watching the stream of colors shining in the dark frames the landscape as a beautiful, living, cultural piece of art. I was impressed to learn about the efficacy of the technology and truly mesmerized to see how magnificent it was in action!

To view the less than three minute film yourself, visit:
https://www.studioroosegaarde.net/project/grow